Catalogs like Booking.com do not know your individual rooms (eg 201, 202, 203).
He only knows that you have, for example, 5 rooms of the "Double standard" type and knows the capacity of accommodation on individual days (dates).
At the peak of accommodation, when you have a high occupancy, such a situation can occur, for example: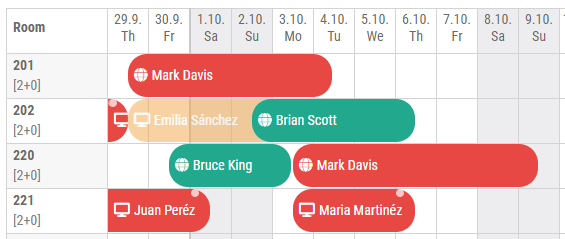 Mrs. Emilia Sánchez wishes to book a "Double Standard" room from 29.09. - 03.10.
Booking.com will look at the capacity of your accommodation and see that you have a free capacity from 29.09. - 03.10. It will therefore allow reservations in this period.
But Booking.com cannot recognize that since 29.09. - 02.10. is available room 202 and from 01.10. - 03.10. is available room 221 and the guest will have to move during stay.
This problem cannot be technically prevented in any catalog, because the catalogs do not work with individual rooms, only with room types. The only possible prevention is to distinguish the types of rooms as much as possible and to have as few rooms as possible in each room type.
Trevlix notifies you in the booking notification that there is no free room of this type and sets the booking to "pending approval".
Situation resolution 1
There are 2 possible solutions:
A) If the guest does not mind that he will have to move, then the guest's reservation will be divided into 2 separate reservations. You shorten the first reservation to the date when the first available room is available and change it to the status "Confirmed". Then you create a second reservation for the rest of the booked date in the second available room. In the event that Trevlix reports this type of error, it is necessary (if the guest agrees to move) to split the reservation into 2 separate reservations with a blocking status (eg confirmed or option) as soon as possible so that no more reservations are added in the unresolved deadline.
B) You report an error to Booking.com (Booking accommodation in a discontinuously available room, the guest would have to move) and Booking.com will usually try to arrange alternative accommodation for the guest.