In the accommodation capacities setting (Settings - Accommodation), enter:
Room Groups (optional)
The purpose of "Room Groups" is to sort rooms in Calendar for greater clarity. If you do not have more than 12 rooms, just create a single group like "Accommodation":

Room Types
need to be created before individual rooms. Guests are always booking a room type (e.g. single room Standard), not a specific room (e.g. 101, 102, 103). Sometimes (eg. in smaller hotels or for superior rooms), there may be only room of the type (eg "Royal Suite") . In other cases, there may be many rooms of the same type (eg 20 "Single Standard" rooms). For room types, please enter also the description, photos, number of beds and foreign language translations if you support online bookings in other languages as well. This data and photos will be displayed to guests when booking online accommodations.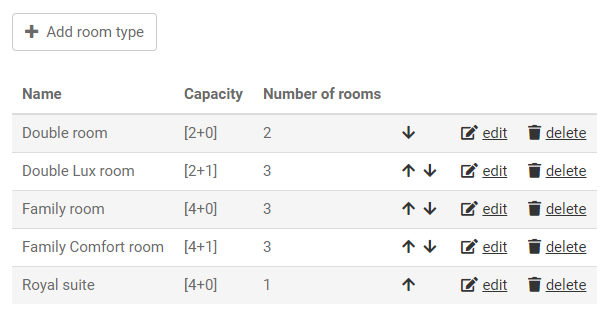 Rooms
When creating a room, you just have to choose what type it is (eg "Double Lux") and enter its name (eg the room number, which is on the room key and the door of the room). Each room type must have at least one room so that guests can order this type of room. If you rent the whole apartment or the whole cottage, then the room means the whole accommodation unit that you rent and you can create as a room, for example, "Cottage 1" or "Apartment Eva".